Encountering The Poor
Biblical Roots for Catholic Social Teaching
by Dr. Tim Gray
Dr. Timothy Gray is the president of the Augustine Institute and is a well-known scripture scholar and Catholic speaker. With his eloquent style and polished delivery, Dr. Gray expounds upon the teachings of the Catholic Church surrounding social justice in light of sacred scripture. Discover how social justice in regards to the poor is not one small piece in the puzzle but instead really frames the entire mosaic of scripture.
CLICK HERE to order CD or MP3 or to hear a preview of the talk!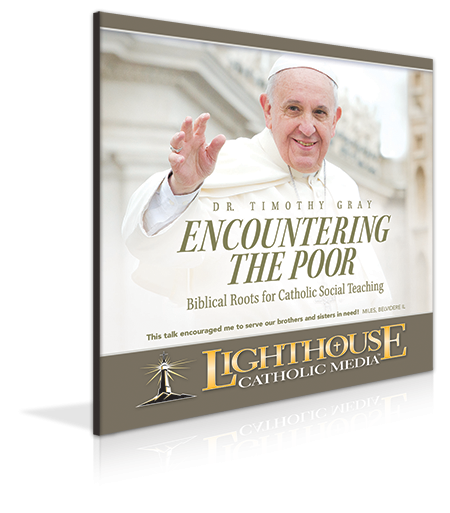 ---
---

Light in the Darkness
Living a Christian Life in a Secular World
by Patrick Lencioni
Patrick Lencioni is the author of ten books which have sold over four million copies and have been translated into more than 25 languages. He has addressed millions of people at conferences and events around the world over the past 15 years. In this talk given at the FOCUS National Conference, Patrick provides a hopeful yet cautionary lesson about the dangers of living a partially Christian life.
CLICK HERE to order CD.
---
---
La Misa Explicada [Spanish]
by Fr. Larry Richards
This is The Mass Explained translated from English to Spanish:
Inspiring speaker Fr. Larry Richards presents exciting and powerful insights into the history, spirituality, and biblical foundations of the Liturgy of the Eucharist. He opens the door for us to enter more profoundly into this most perfect prayer and unite our offering with that of the priest. This will change the way you experience this most sacred of all mysteries, the source and summit of our lives.
Click HERE to order CD
---
---
Guadalupe [Spanish]
Y El Misterio Verbo Encarnado
by Xavier Fernandez
The Apparition on Tepeyac brought the Son of God to the New World like He was brought to that cave in Bethlehem 2,000 years ago. The sacrifices at the Aztec Pyramids have been replaced by the sacrifice of the eternal Lamb on the alters of the Catholic Church. Each miraculous sign has a meaning and that of Guadalupe is to remind us that through the Eucharist, the Word Incarnate that entered Marys body, enters anew into each one of us. In this presentation of the story of Guadalupe is revealed an amazing perspective of the relationship between Mary, the Apocalypse and the Holy Eucharist.
CLICK HERE to order the CD.